Age-related Macular Degeneration (wAMD)
The National Eye Institute indicates that wAMD is the most common cause of vision impairment among people >50 years of age. It is an eye condition where the macula, a spot in the retina situated in the back of the eye, is damaged. This leads to a blurred area in the patient's vision, or blank spots.
In 2010, 10 to 15% of the 285 million vision impaired population was due to wAMD. wAMD accounts for 90% of severe vision loss caused by macular degeneration. It is predicted to affect 288 million people by 2040¹.
In wAMD, new blood vessels grow below the retina and begin to leak blood causing blockage of vision. In research studies, vascular endothelial growth factor (VEGF) and platelet-derived growth factor (PDGF) have in implicated to play an important role in this process.
To treat wAMD, researchers have developed anti-VEGF therapies, which have been used to slow down and even reverse the vision loss.
> Age 50
---
The leading cause of vision loss in adults over age 50²
5.4 mn
---
people are estimated to have wAMD in 2050³
US$11.5 bn
---
is projected for wAMD market in 2026⁴
Impact of age-related macular degeneration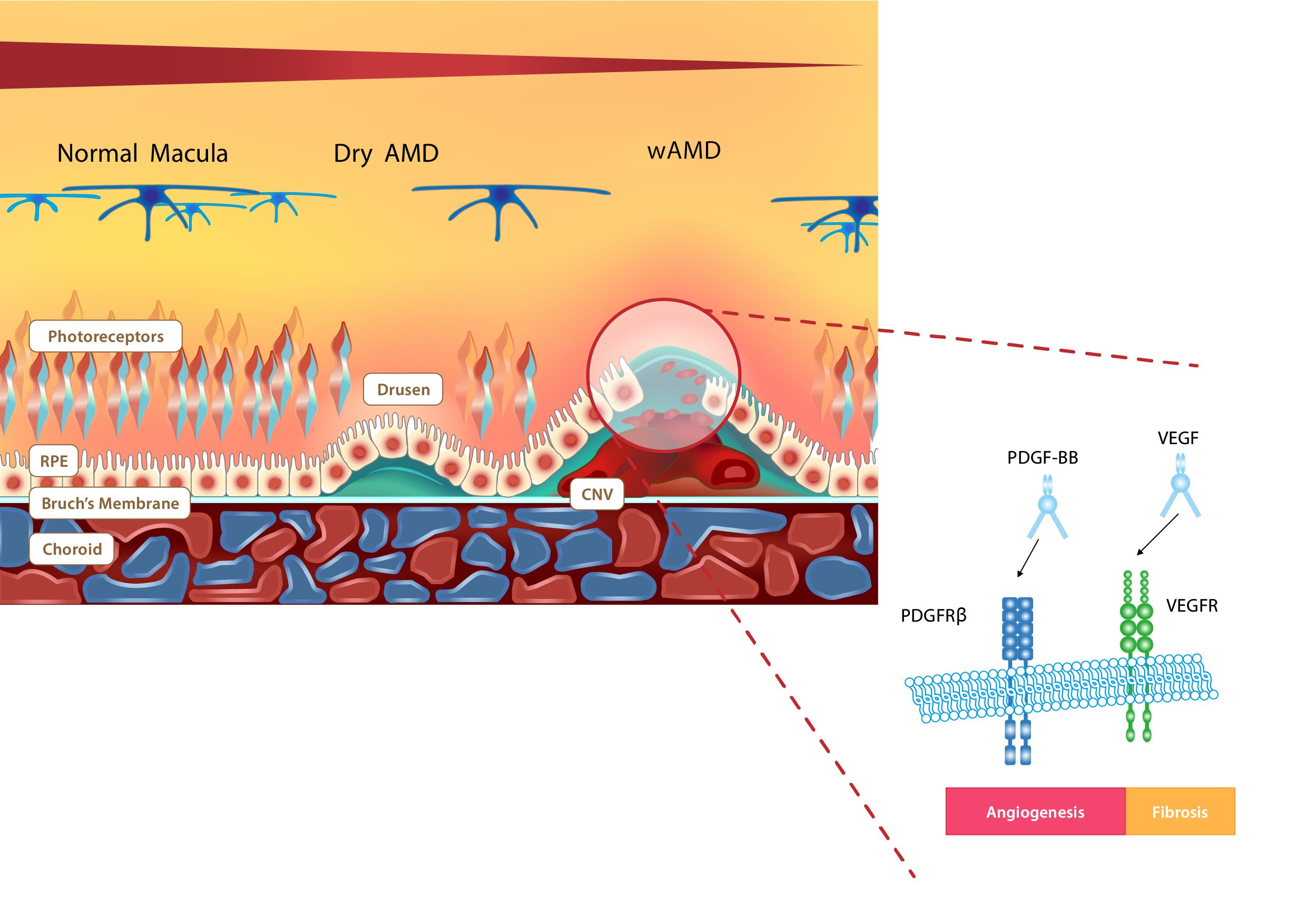 Vascular leakage due to neovasculariztion in wAMD
Issues with Current wAMD Therapy
Although anti-VEGF therapies have had success in treating wet AMD, still ~50% of patients either do not respond to these drugs, or begin to lose efficacy over time due to fibrosis⁵. Anti-VEGF therapies also do not act on all the different mechanisms of retinal disease, and frequent injections cause a significant treatment burden.
Therefore, there is still an unmet medical need to develop new therapies to benefit patients.
1.Lancet Glob Health. 2014, Feb;2(2):e65–6.
2.National Eye Institute website. Accessed July 27, 2016.
3.News from National Institutes of Health. Accessed December 21, 2015.
4.Information based on GlobalData's report 2019 for AMD
5.OPT-032, VEGF-C/D trap for eye diseases, presentation of Opthea, January 2018